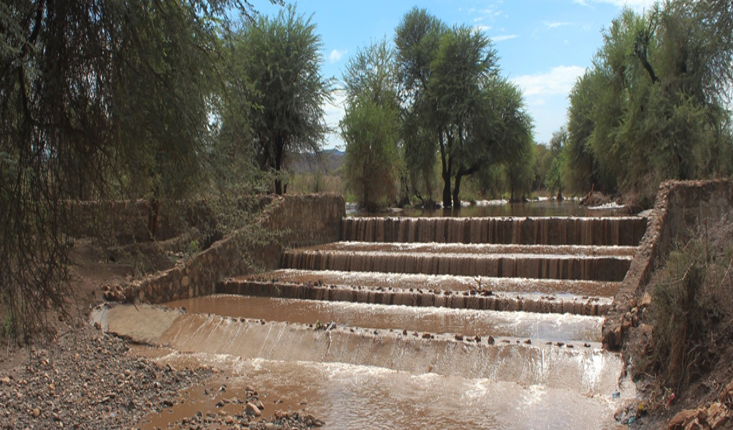 Introduction
The project concerns the assessment of the performance of water spreading weirs (WSWs) in the arid lowlands in Ethiopia. The project contains three modules:
A hydrological and sediment study;
The establishment of a groundwater monitoring site and
A socio-economic and institutional study.
The assessment and the development of a long-term monitoring site is an opportunity for joint evidence based learning with many stakeholders, such as the communities in the WSW cascade locations (to discuss institutional sustainability, design and follow on activities), different government partners (to discuss the ability to support and repeat the WSW and dryland development activities as well as different development partners (to discuss opportunities for fine-tuning and scaling up). The different activities under the assessment, such as the workshops and the development of the business model, are geared towards this partner engagement.
Objectives
The specific objectives of the project include:
Module 1
Measure and understand the hydrology of the floods including discharge, peak flood and flood hydrograph;
Assess the potential and risks associated to sediment transportation and deposition.
Module 2
Establish a monitoring site for ground water recharge analysis.
Module 3
Assess the sustainability of the WSW cascades in terms of the social and institutional dynamics and performance such as participation of users, willingness and/or capacity to contribute to operation and maintenance of the schemes, benefit sharing, and unintended impact and effects;
Assess the capacity of government experts in implementation and operation of WSW cascades.
For all modules:
Devise practical strategies that could improve the efficiency and sustainability of the WSW cascades;
Alert unintended impacts from the WSW cascade construction; and
Build the capacities of research institutions in the above-mentioned capacities by involving local resources.
Share the results with a wide platform of partners.
Documents
In September 2020 an inception workshop was organised. The presentations from the workshop can be accessed below:
Other resources
Gallery