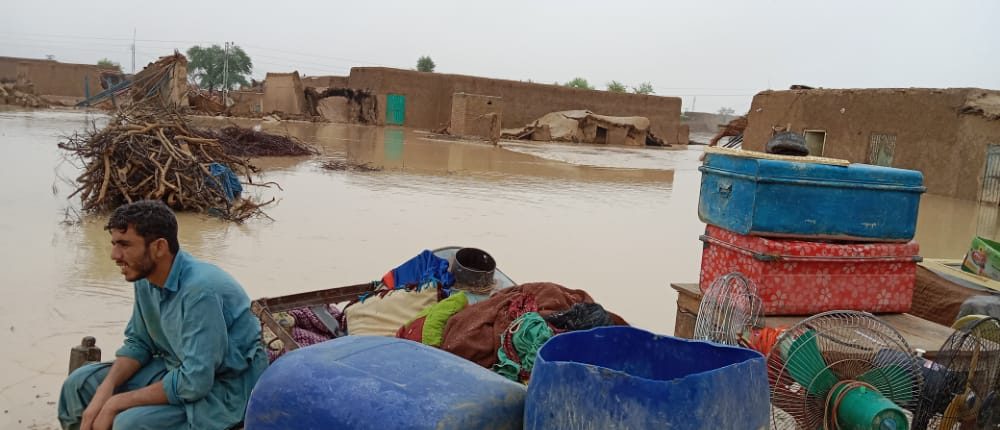 Dear readers,
Pakistan, a land of multiple geographies and cultural mosaic after a decade (12 years) is once again hit hard by the flooding due to heavy monsoon torrential rains, which have been unprecedent and broken records of past thirty years. Sindh province alone recorded a 470% increase in rainfall from the months June through August 2022. The record rainfall this summer first pushed Balochistan into its worst flooding. Later, Sindh and southern districts of Punjab and now the glacier-melting has affected KPK province as well. Having barely recovered from the losses incurred in the 2010 'super floods,' the local population is once again in makeshifts. The 2010 floods affected around 20 million people; the ongoing floods have already affected 33 million—a figure that is set to increase.
With this newsflash we aim to provide you with an update from the different provinces in Pakistan where the flooding has taken place and where communities depend on Spate Irrigation for their livelihoods.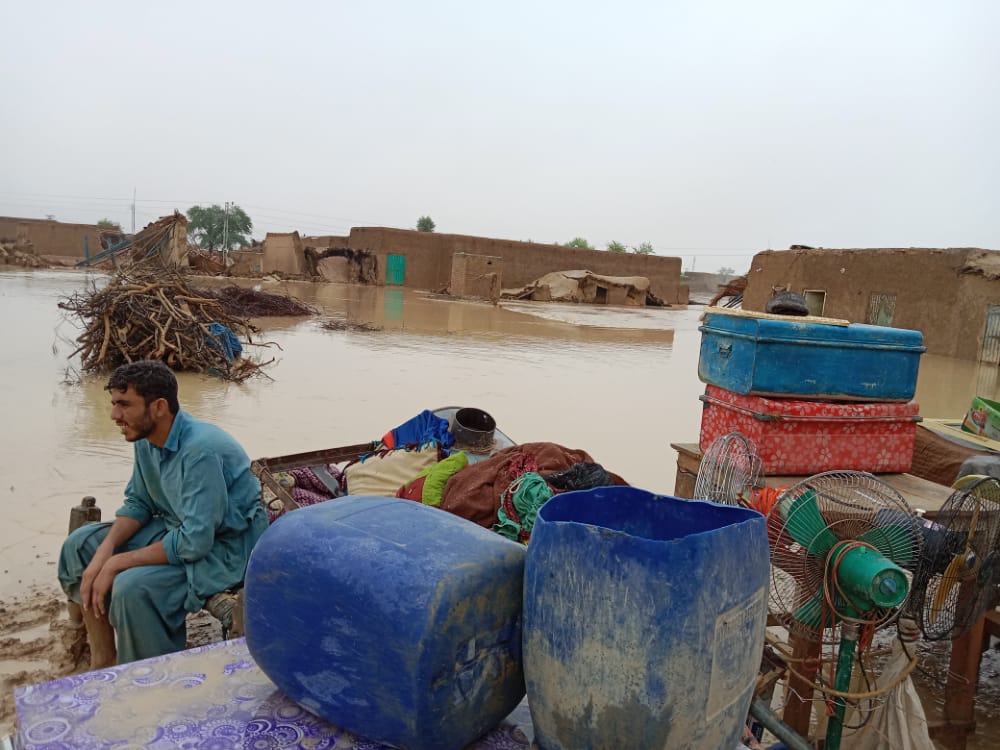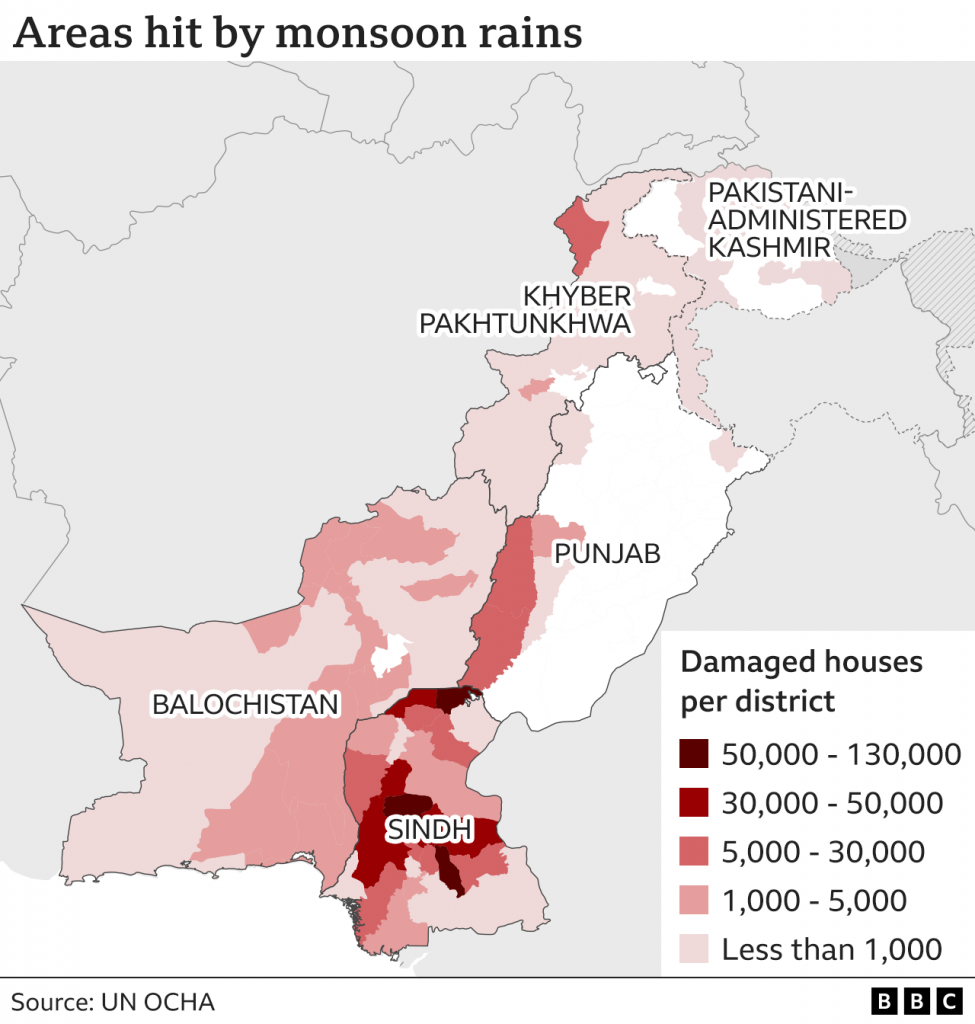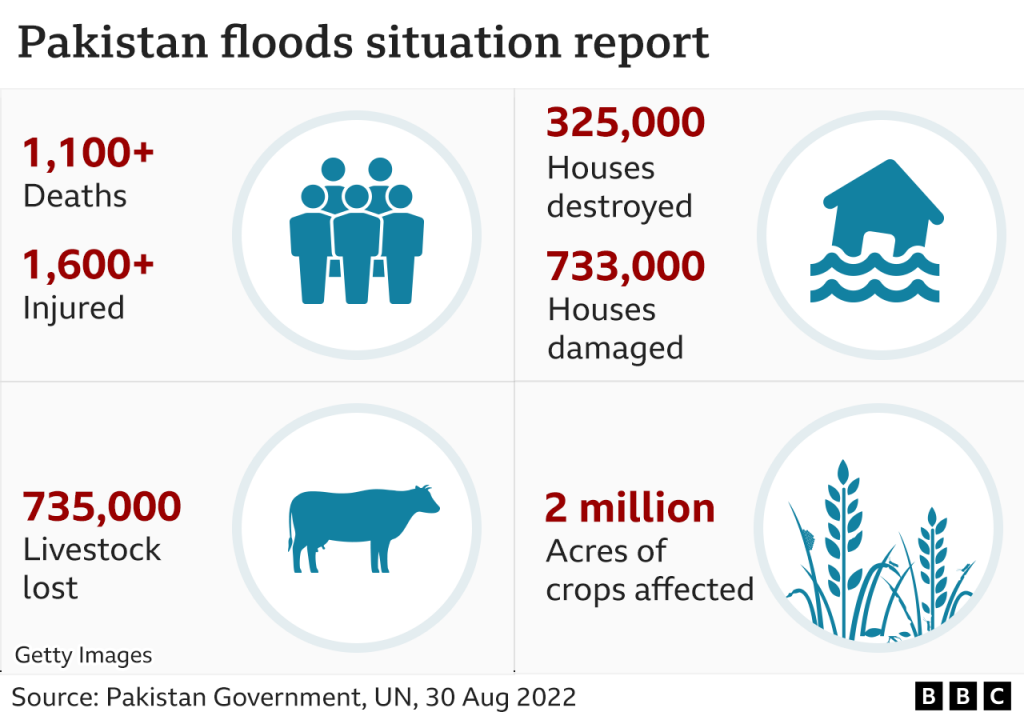 Topics in this newsflash
Flooding in Kacchi Plains (Balochistan)
Flooding in Nai Gaj (Sindh) + Humanitarian Appeal
Flooding in Jafferabad (Balochistan)
Sitation in South Punjab / DG Khan
Relief Initiatives
Closing
Flooding in the Kacchi Plains (Balochistan)
Pakistan's vast lowlands Kachhi Plains stretch over 8000 km2 in Balochistan province. It has been the hardest-hit areas in the ongoing floods (July-August 2022). It is in these plains that the main rivers of Balochistan discharge. The accumulated floods– especially of the Nari, Bolan, Mula, and Chakar Rivers–have inundated large parts of the area. This has caused major losses of human settlements, agricultural lands, livestock, and drinking water resources. Traditional spate irrigation infrastructure has incurred heavy damage. The floods submerged villages (78 in Bhag Tehsil only), agricultural fields (at least 200,000 ha), and spate irrigation canals. Not a single place has been left dry accept elevated road embankments where people can take refuge. This helicopter view is from Rehanzai to Bhag Nari, and was shot by members of the Rehanzai farmer network, during their evacuation from the Rehanzai area.
This year Balochistan has received more than 700 mm of rain compared to the normal rainfall of 135 mm per year. From 14 August 2022 in particular, rains were more incessant and generated heavy floods in all of the rivers mentioned above. The recurring floods have washed away all the highway bridges in Bolan pass which connect the area with Quetta and Sibi, Jacobabad and Sukkur, which are the main markets for merchandise and daily supplies on a routine basis. The heavy rain in the Kachhi Plain itself caused damage to many of the adobe houses even when they were not flooded.
The team is currently preparing a Disaster Needs Assessment report to identify the must urgent needs for the communities, but also for the spare irrigation system to be able to function again after the floods.
Access the full Flood Damage Assessment report for Kacchi Plain here.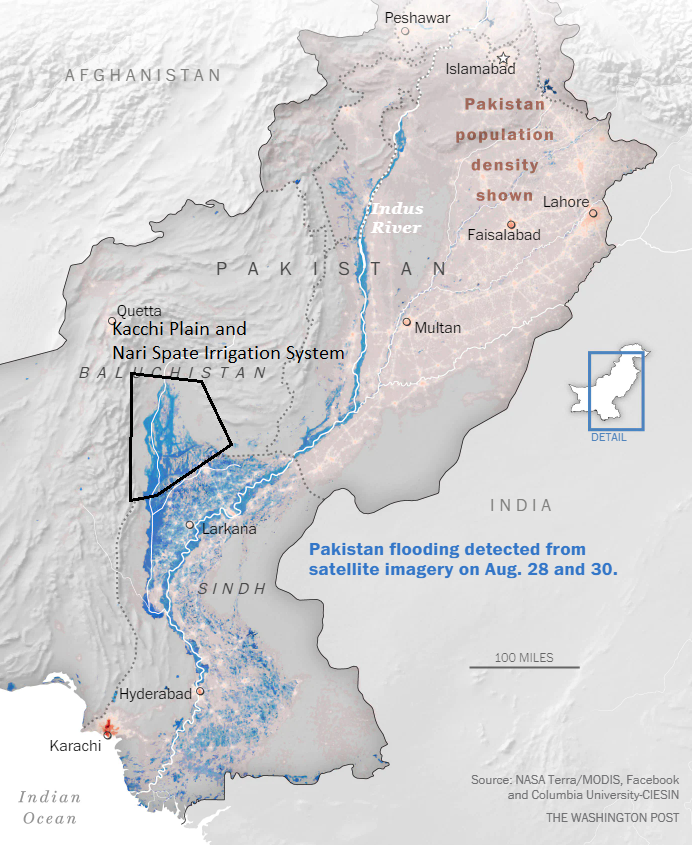 Flooding in the Nai Gaj (Sindh)
Research and Development Foundation (RDF), who is a project partner in the Newarbi project, has conducted a flood situation analysis in Balochistan and Sindh province, which reveals that people in affected areas have lost their food stocks to more than 70%. Agriculture losses, such as damages to fruit orchards, are set to further aggravate the food security and nutrition situation in affected areas. Outburst of ten dams in Balochistan has washed away hundreds of villages, thousands of houses, agriculture land and orchards. Selling livestock to meet daily needs, particularly the medical expenses and purchasing shelter tents etc is a negative coping mechanism which has been observed among the affected people. This will lead to further deterioration of their economic conditions in days to come.

RDF has initiated the Pakistan Flood 2022 Humanitarian Appeal for Sindh, which we bring to your attention. Details on how to contribute can be found below.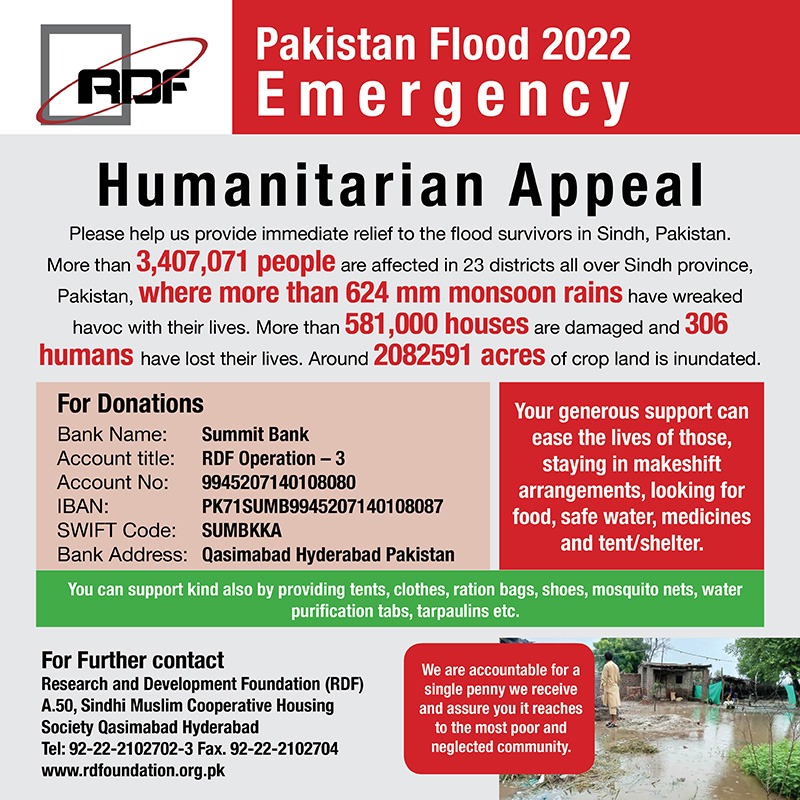 Access the full Flood Damage Assessment report for Sindh (Nai Gaj) here.
Flooding in the Jafferabad (Balochistan)
Jafferabad is located downstream of the Nari Spate Irrigation system and is also badly affected with the floods.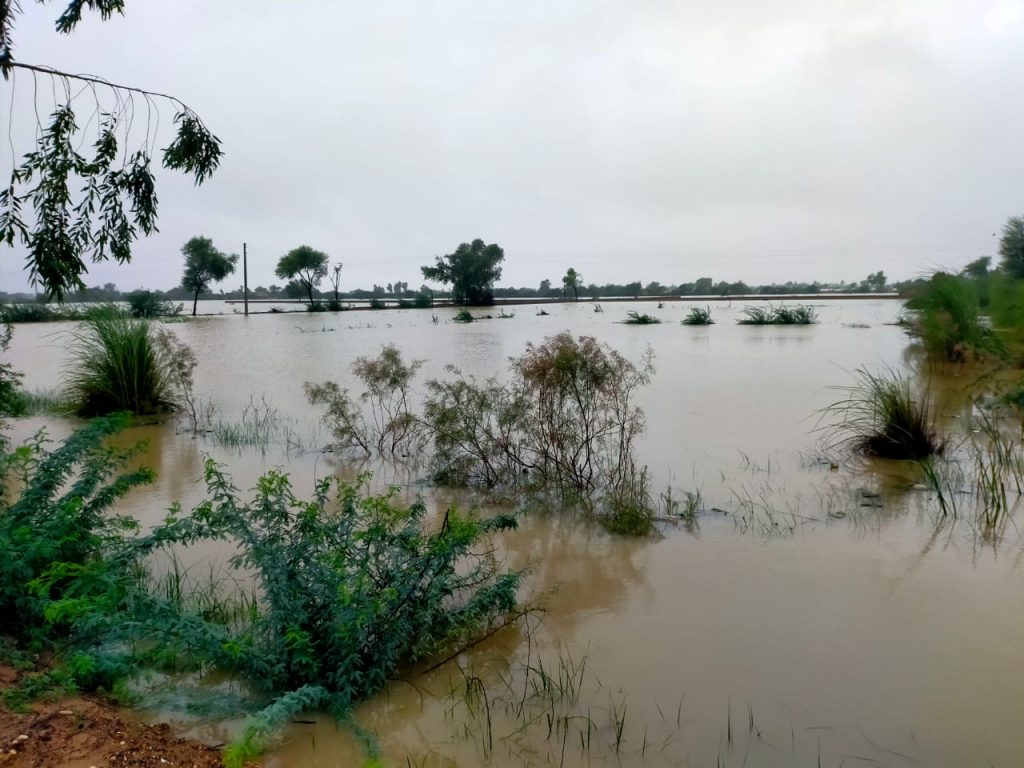 Situation in South Punjab / DG Khan
Contribution through Khurram Mubeen who is Assistant Professor (Agronomy) with the Muhammad Nawaz Shareef University of Agriculture Multan-Pakistan, from South Punjab / DG Khan perspective.

The floods caused by La Nina (a large low air pressure system) and climate change have resulted in heavy monsoon rains through hill torrents till end August 2022 in southwestern Punjab in south Punjab, Pakistan. Hill torrents from Dera Ghazi Khan and Rajanpur showed highest peak discharge during 2022 monsoon season. In southwestern Punjab majority of the damage has been done by the hill torrents with 14 being main as mentioned below with seven main hill torrents in Dera Ghazi Khan district and seven in Rajanpur District. These hill torrent floods have badly caused multi-dimensional damages to life of the human beings, animals besides damages to infrastructure inclusive roads, buildings, etc. Moreover the damages to houses have badly hit the area making people homeless and compelled the people to live on roads under the sky. Some families waited for the rescue with hill torrent flood water everywhere around them with no way to escape. Some of them stayed on the tree trunks for about 24 hours without meal and other human needs.
Both Dera Ghazi Khan and Rajanpur districts have been included in calamity hit districts by the government of Pakistan. More than 0.30 Million people have been affected by the hill torrents flood in southwestern Punjab. Moreover people displaced and living as refugees are also further at risk seeking assistance. More than 60 people have been reported to be killed; even more people have been injured with likely increase in number with more rain prediction in coming days. More than 4000 houses have been destroyed completely or partially (inclusive assets kept inside like dowry of the daughters in particular gold ornaments). Thousands of animals (a main source of livelihoods for families in spate irrigated areas of southwestern Punjab) have died in the floods. About 0.20 Million acres of crops and fruit orchards in Punjab have been affected. Most of which is from Southwestern Punjab hill torrents as the floods from rivers were less intense than floods of 2010. Infrastructure damage to roads and bridges has restricted people migrating to safer areas and aid reaching the needy people. Electricity failure has affected thousands of people due to damage of power lines. Internet issue has been reported too in many of such areas due to heavy floods and rains especially on August 19, 2022 limiting the information about need of the aid. These hill torrent floods ultimately ends up in rivers which are also inundated too much depicting the inability of the existing infrastructure to absorb this huge flood water.

Access the full Flood Damage Assessment report for South Punjab (DG Khan) here.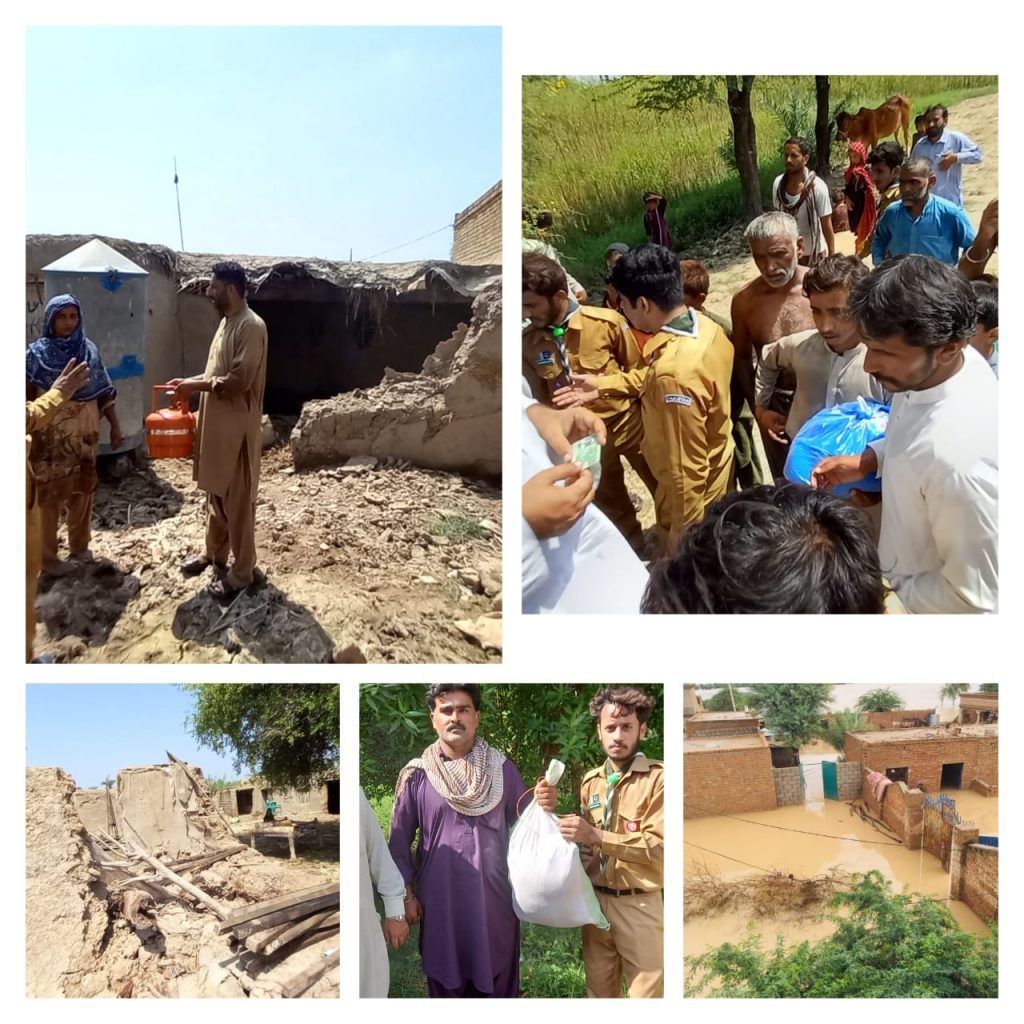 Relief Initiatives
Besides the two NGOs the FBLN network partners with, many organisations have taken up the responsibility to provide immediate relief items and to also work towards longer term recovery of the flooded areas.
Taraqee foundation has, with support of the WFP, constructed several flood protection earthen bunds, strengthened with stone pitching. Also several are involved in handing out temporary shelters, food rations and setting up livestock vaccination campaigns, to protect the weakened livestock against diseases.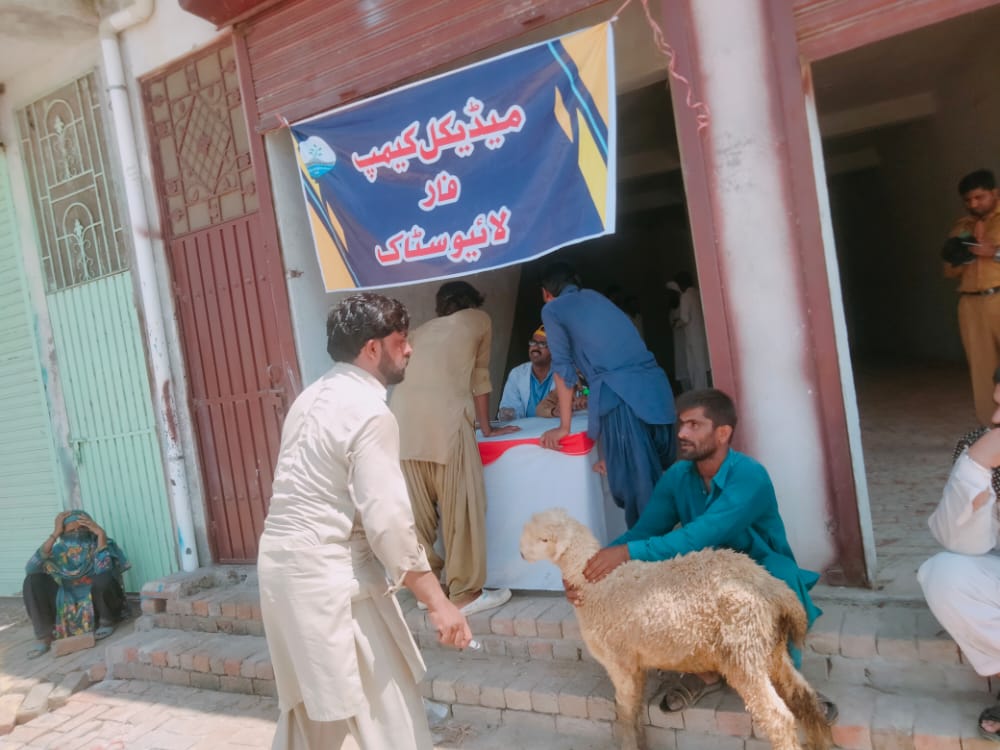 Closing
The main message of this newsflash is also captured in the blog written on TheWaterChannel. Access it through: https://thewaterchannel.tv/thewaterblog/flooded-once-again/.
Recently a video was also published on the flood utilization and flood protection work in Bhag Nari, which includes the construction of Drinking Water ponds, as part of the COVID-19 response efforts.